:




















---
Fake Nations Of The Crown (12-Sided) £1 Coins !!!
Officially produced from 2016 - 20xx
Released in 2017 to combat the counterfeit round pounds (1 in 30 was said to be fake)
Unfortunately, as predicted, it doesn't matter how much technology the Royal Mint added to the coin, it will be forged and it will circulate. Just as these show.
These coins first started showing up in and around Sheffield in October 2018.
TheFakePoundCoinDatabase was pipped to the post by Check Your Change in getting to examine one of these coins first, so please head on over there to view Christophers in depth review (Including XRF analysis AND destruction of one of the coins too!)

Before we get into the pics and stats of these fakes, I first have to thank Christopher Henry Perkins of Check Your Change for generously donating Specimen 1 and also thank Paul McGuinness for sending it to me. Thank you both.
Specimen 1

(Click to enlarge)

Coin ID : Specimen 1
Year : 2017
Weight :

7.87g

/

8.75g

Weight :

2.79-2.95mm

/

2.72mm

Thickness :


23.53-23.65mm

/

23.03mm

Diameter Edge to Edge:


23.88-24.01mm

/

23.43mm
Specimen 2

(Click to enlarge)

Coin ID : Specimen 2
Year : 2017
Weight :

7.63g

/

8.75g

Weight :

2.65-2.83mm

/

2.72mm

Thickness :


23.44-23.54mm

/

23.03mm

Diameter Edge to Edge:


23.88-23.98mm

/

23.43mm
As noted by CYC, there are significant intricate details that differ, as well as the overall appearance of the coins themselves.
Some of the differences, I will highlight below. (Real coins are in Green, the fake in Red)
No Micro-lettering or working latent image/hologram, no reverse designer initials and lack of detail throughout.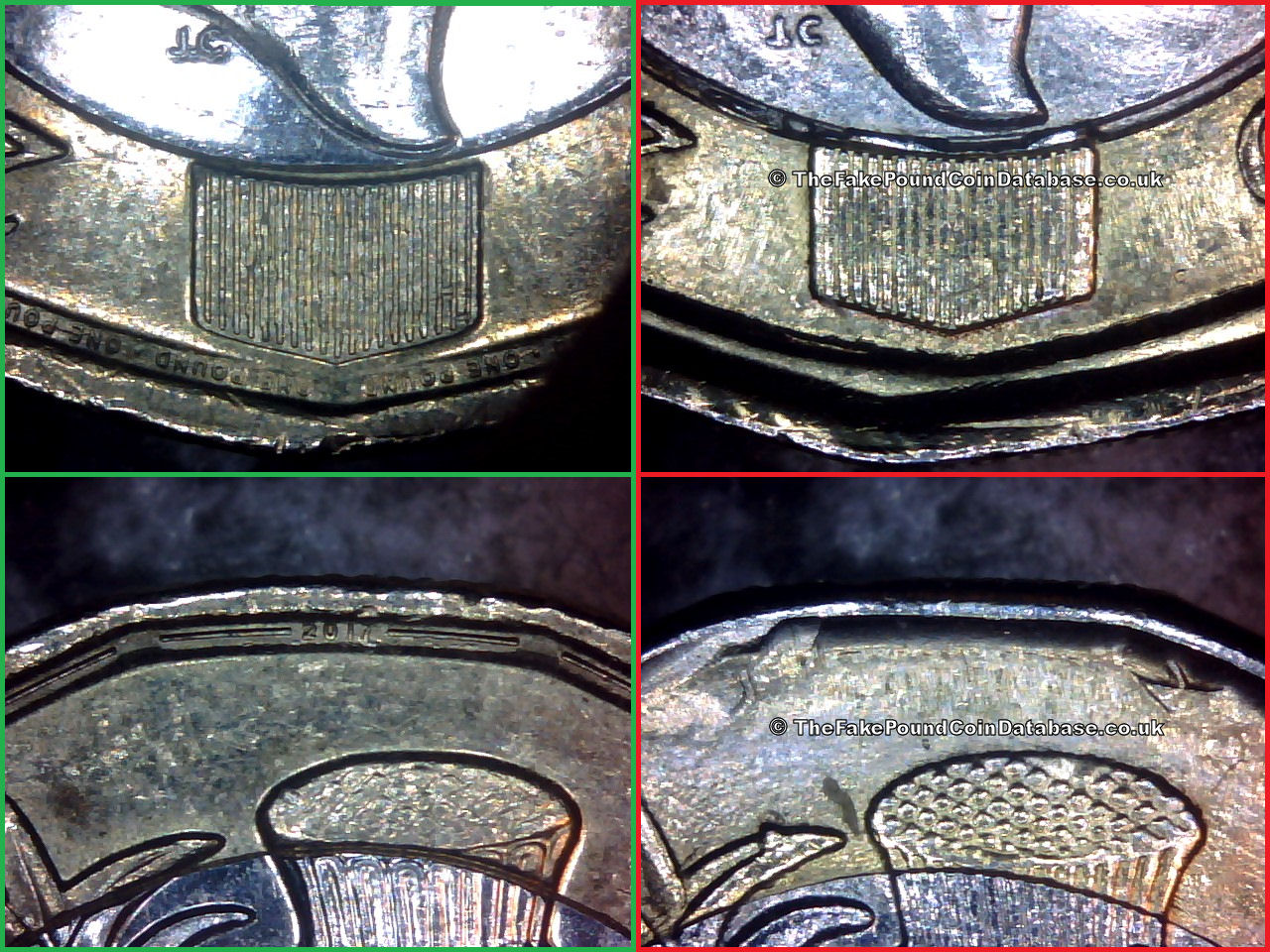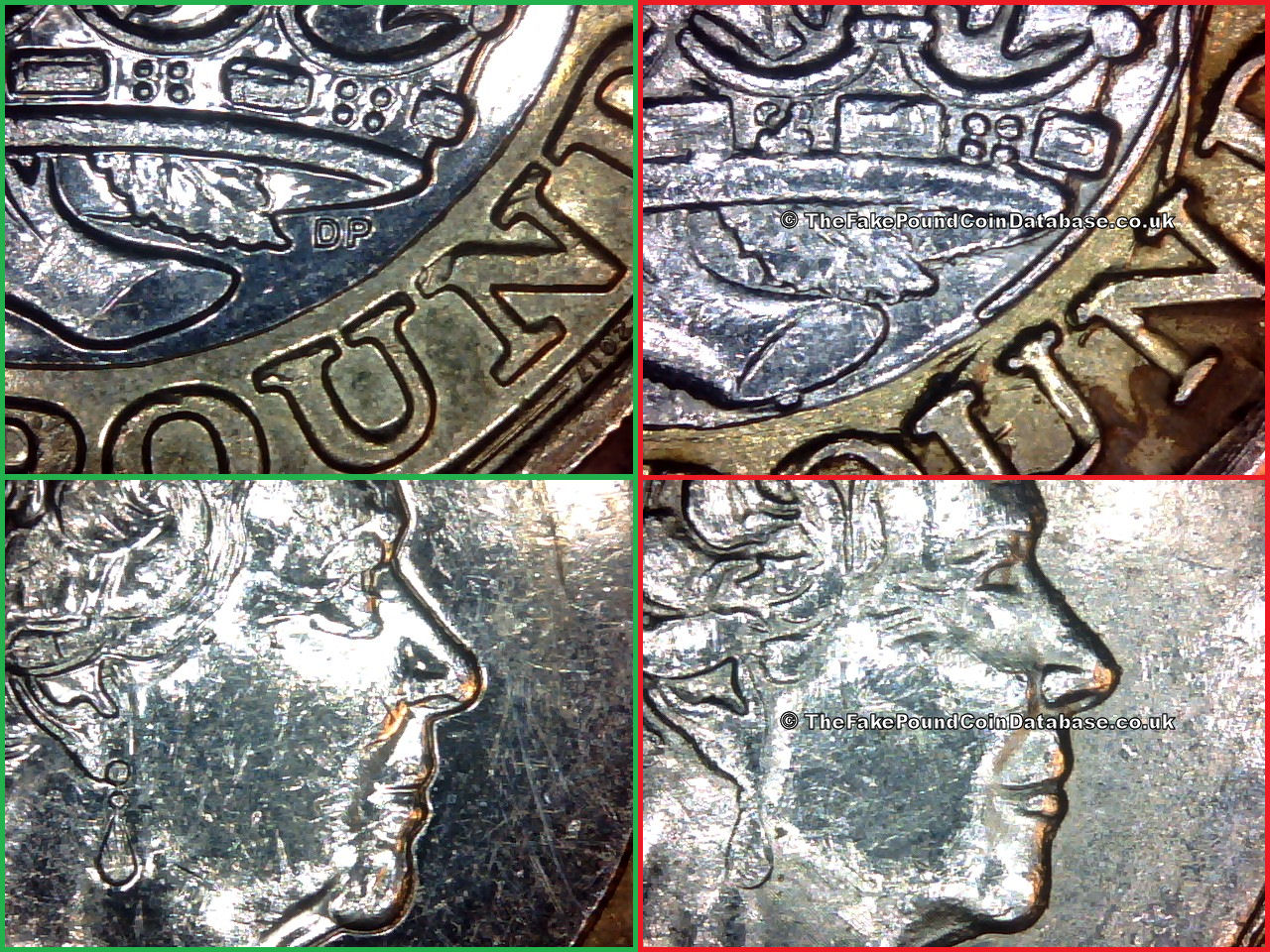 Less noticeable is the different number of millings per side.
Original coins have 13 millings (raised lines) per side, whereas these counterfeits have 15.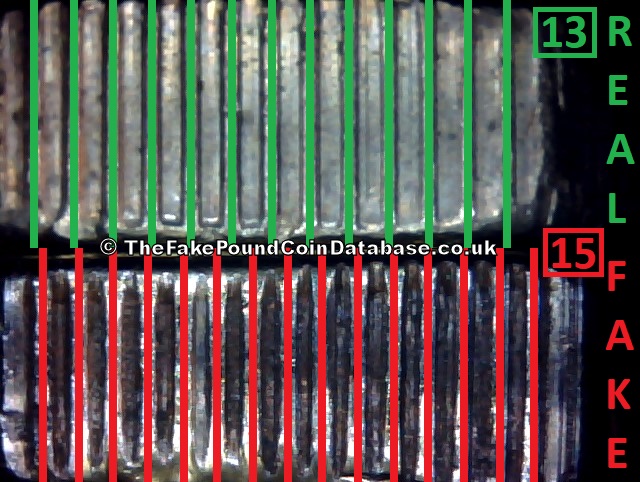 A couple of personal observations.... looking closely at the crack running under the ONE POUND on the reverse.
With some editing, I have determined that the circle crack-like mark, nearly perfectly matches the size and shape of the inner pill.
Whether this means a pill became loose and damaged the die, we'll have to wait and see if an undamaged one comes to light.
---
There is potentially another kind of fake out there.
This coin has sharper edges than circulation coins, has no micro-lettering and appears to have a "third" lip.
This coin was found in Hull, and so far is the only specimen that has come to light.
Images are © S T.
Specimen 3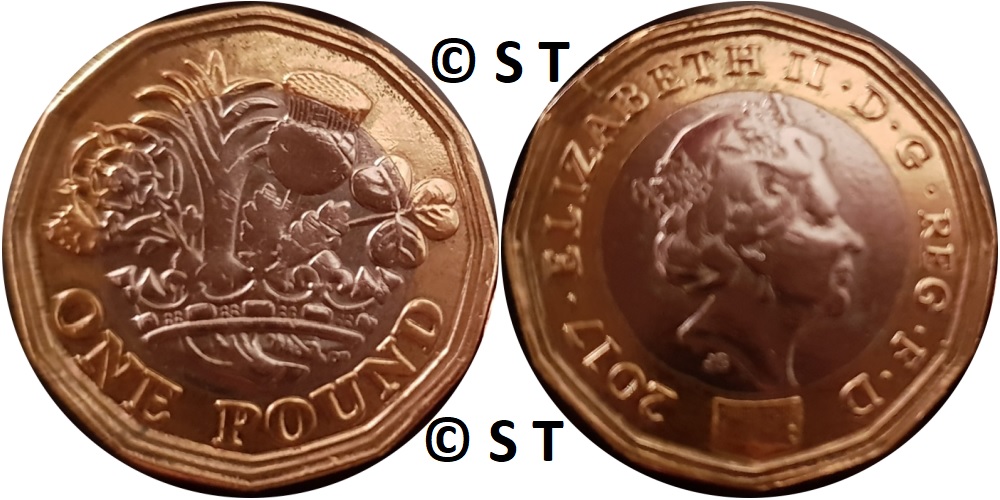 ---
Copyright © The Fake Pound Coin Database.